ISO Group is a certified Small Business providing supply chain support for NASA's Orion, Space Launch System (SLS), Commercial Crew, and International Space Station. 249 miles up, and traveling over 17,000 miles per hour is not the time to find out that you were supplied a part that is less than what you expected. We understand very specific requirements and deliver the essential parts needed to do the job you require. Don't just take our word for it. #Boeing has a program to recognize outstanding suppliers who achieve the high performance standards necessary to exceed customer expectations and remain competitive in the global economy.
ISO Group has received the Boeing Performance Excellence Award every year since the inception of the program.
NASA and Boeing understand this fact and add extra requirements to ensure that the parts they use are able to withstand harsh environments. Since many NASA programs involve materials made with potentially dangerous chemicals and substances, ensuring devices can withstand the pressures and temperatures associated with liftoff and space travel, the Agency has made identification of anything that can have potential negative effects to human life top priority. These requirements are specified in Boeing's unique #Detail Process Material (#DPM) standard. The DPM is very detailed and non-negotiable, it not only adds the security of knowing the part will do the job required, it adds more time for proper processing and quality control.
ISO Group fully understands DPM requirements and is able to accurately support and fulfill the parts needed to support this complex supply chain.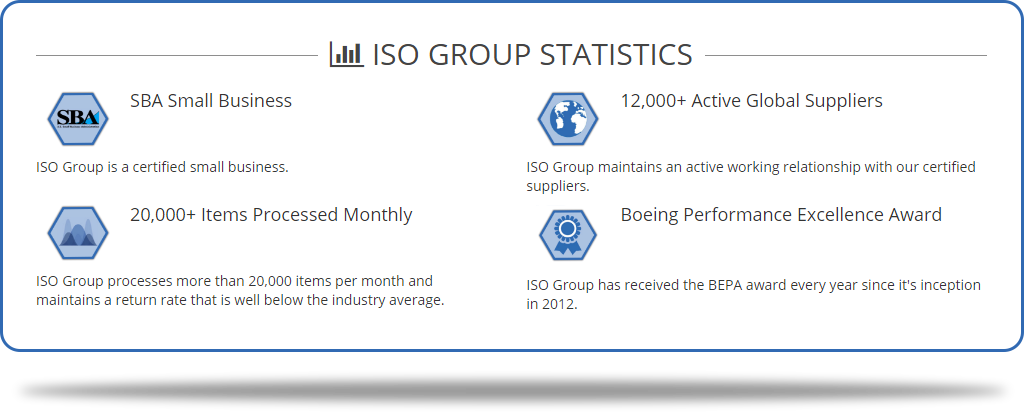 Partner vs. Supplier
A supplier will sell you a part. A partner understands your needs and offers a solution for success.
ISO Group is a supply chain partner for the defense and aerospace industry whose sole purpose is working with our clients to maintain and sustain critical platforms and equipment. We deliver quality supply chain solutions that enhance operational readiness for over 2,000 weapons systems and platforms. ISO Group knows the parts, the platforms and the sources.
At the heart of our operation is our Defense Logistics Management System (DLMS™), a proprietary database of over 125 million part numbers and 12,000 certified suppliers. The DLMS utilizes supply chain analytics to provide comprehensive solutions for complex and diverse bill of material requirements, creating efficient and reliable supply chains.
ISO Group's mission centers on its dedication to our clients, and providing an exceptional quality experience. ISO Group provides industry leading quality control, maintaining a part return rate far below industry averages. Our ISO9001 and AS9120 certified Quality Management System manages thousands of parts every day. All items are barcoded, photographed and 100% inspected, with manufacturer certifications and traceability available.
ISO Group delivers solutions domestically as well as through Foreign Military Sales (FMS) or Direct Commercial Sales, and is an approved supplier to the United States Government and over 50 foreign governments. ISO Group supports clients on six continents.
For more information on DPM and #MSDS, please contact us at: tel: +1-877-330-1580.